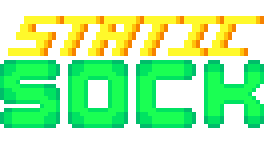 Static Sock
So it turns out Static Sock kind of won the jam?
It came first in Overall at least, which is a big improvement from the last time I entered a jam. Of course, this jam isn't supposed to be a massive competition, but it's nice to see that people are enjoying my game.

Firstly, I'd like to thank everyone who voted and especially those who left their feedback comments - it's been really helpful! Definitely need to think more about difficulty in particular.

I've already kind of done a post jam version, and I'm not sure that there's really anything else to be done with this game. So, as mentioned in the previous devlog, I'm starting to work on a new project - follow my Twitter for stuff about that when it's ready.

Finally - go play the other entries! They're really good!

Edit: Would also like to mention that the jam version will soon be removed from the game page - if you want it for whatever reason, download it now!