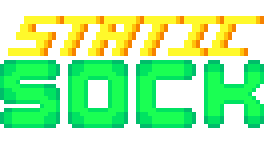 Static Sock
Static Sock - Pair of Socks (v2a) update
---
Static Sock's post jam version is now available!
Changelog:
- 2-Player local multiplayer
- New menu
- Fullscreen mode (press f11)

Tweaks
- Minor bug fixes
- "C" can be used in place of "Z"
- Yellow birds now make a unique sound
This will likely be the only update, as I feel there isn't much more I can do to expand the game.
However, I'm still working on stuff - follow me on Twitter for updates on that (thinking of doing something kinda Metroidvaniary).

Files
Static Sock (Windows, 64-Bit)
6 MB
Feb 21, 2019
Static Sock (Universal .love)
2 MB
Feb 21, 2019
Static Sock (Windows, 32-Bit)
6 MB
Feb 21, 2019